Democratizing AI-Driven Product Recommendations For The B2B Market
We are incredibly excited to announce a partnership with London-based Clear AI, a cutting-edge supply chain AI platform that helps businesses transform B2B data into real value. We have partnered up with the Clear AI team to combine our comprehensive order management solutions with their Knowledge Graph (KG) and Machine Learning (ML) technology to provide our customers with strategic, data-driven insights that drive business growth.
We are working together to create AI-driven solutions for supply chain and logistics companies of all sizes. We're proud to announce the first result of this partnership is the Routieque Product Recommendation Engine, a feature of the Routeique enterprise Customer Order Portal.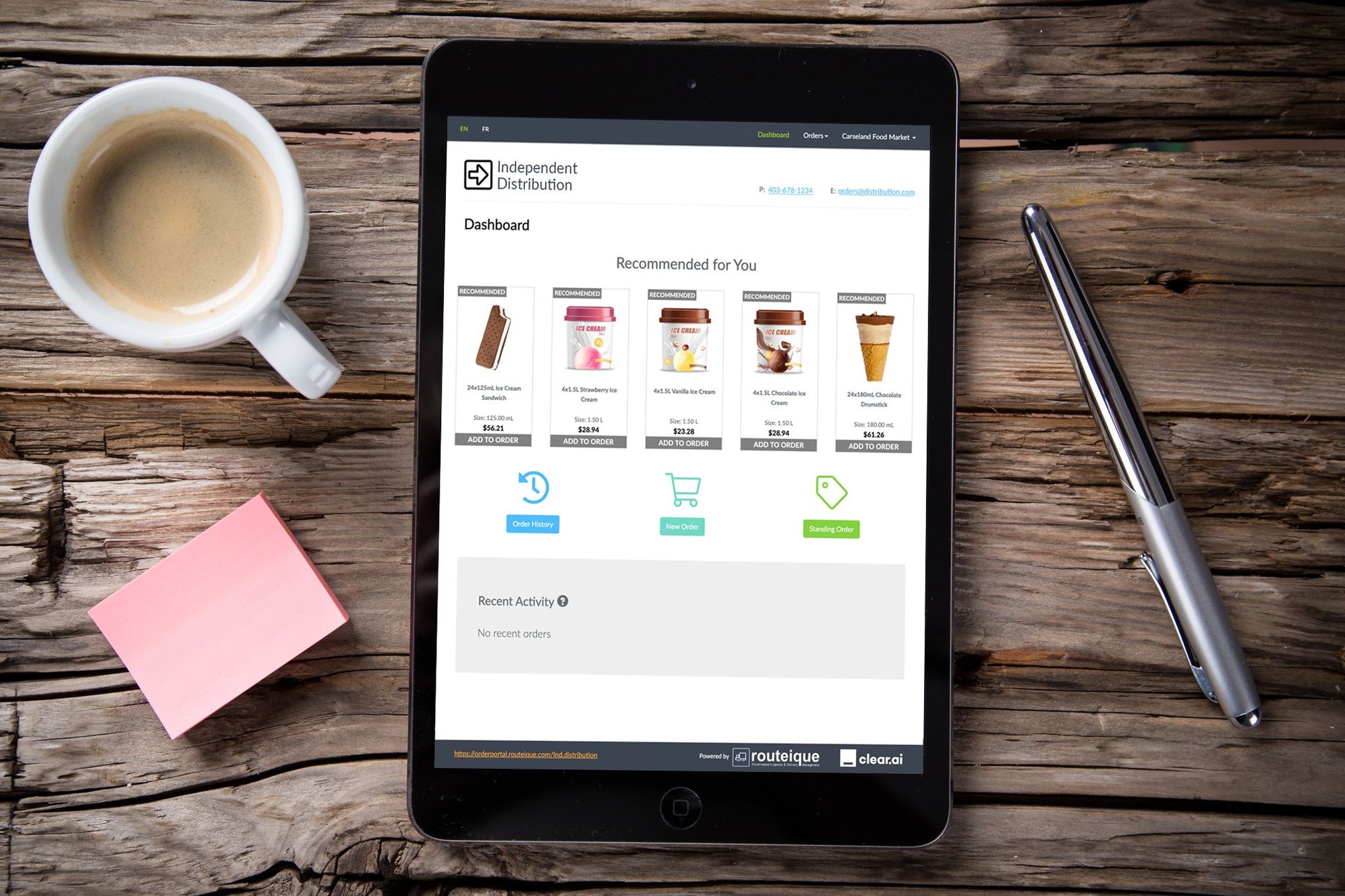 Thousands of retail customers per day use the Routeique enterprise Customer Order Portal to place their commercial orders via smartphone, app, or tablet for immediate fulfillment by manufacturers and distributors.
The new Recommendation Engine will suggest relevant products to retail customers as they place their orders. 
Introducing The B2B Recommendation Engine
Most individuals outside of the logistics space are accustomed to getting recommendations from giants like Amazon and Netflix, not to mention numerous smaller retailers.
The difference between those engines and the one created by Routeique and Clear AI is the Product Recommendation Engine operates in a B2B space.
As Routeique CEO Mike Allan notes, "It has historically been much more challenging to implement product recommendations 'blindly' across a network of partners and providers than it is when a direct customer relationship exists." Mike also notes that testing indicates "we're able to recommend Product X to Customer Y with incredible uptake, without any party seeing each other's data."
Additionally, the system is able to respect the contractual and legal requirements relating to which company has ownership over which customers, while still providing accurate recommendations as if a direct customer relationship existed.
Results of Early Testing
Routeique is currently testing the Recommendation Engine with one of the largest foodservice manufacturers in the world, which specializes in fast-moving consumer goods (FMCG). Initial data indicates a sales increase of 8%. For commercial users, this can result in an incremental revenue lift in the millions of dollars in a single region. 
Routeique and Clear AI expect to roll out the platform to their international customers worldwide by the end of 2020. 
The Future of The Partnership
Moving forward, both organizations will continue to collaborate on tools and technology to benefit their respective customers.
Clear AI CMO, Tee Ganbold, notes "By working with platforms like Routeique, we are able to access the key logistics data required to increase the velocity of goods through supply chains with actionable, data-driven insights. The recommendation engine is only the first stage of this partnership and we are extremely excited to increase revenue and reduce inventory for businesses."
Start Lifting Your Revenue With The Recommendation Engine
If you would like to learn more about the Recommendation Engine or are interested in implementing it within your network, get in touch with us at media@routeique.com or through our contact form.