GET X-RAY VISION INTO YOUR SUPPLY CHAIN, FROM ORDER TO FINAL MILE
Whether you focus on long-haul or final mile, having visibility and seamless control over your operation make it easy to ramp up your transportation efforts.
We understand the complexities and uncertainties in shipping and fulfillment today. Our team combines cutting-edge carrier software with tailored professional services to help you get goods from point A to point B with lower costs and fewer disruptions, keeping your customers happy.
OUR CLIENTS
We're proud to help our clients manage efficient logistics and transportation operations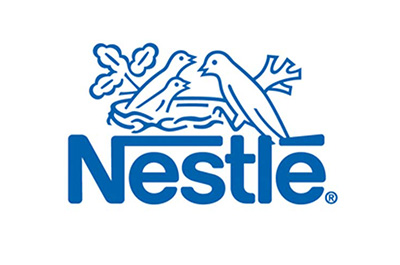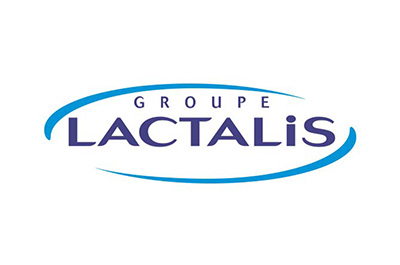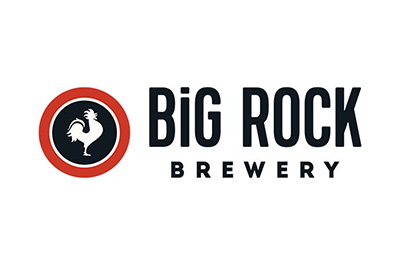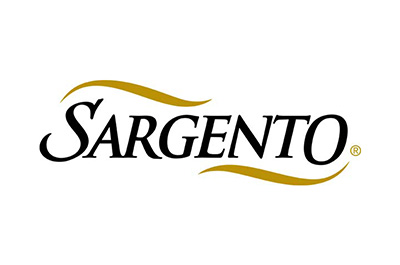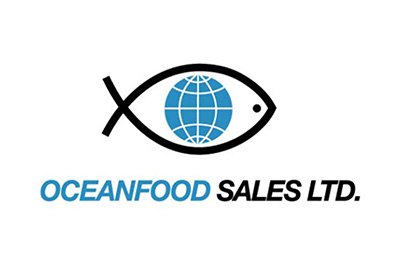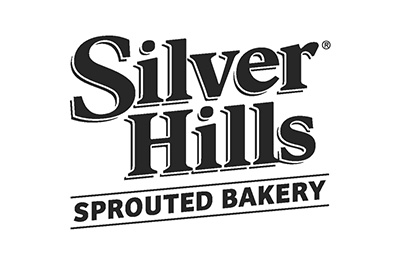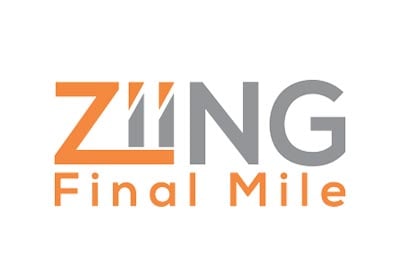 WE UNDERSTAND THE CHALLENGES FACING CARRIERS TODAY
With rising consumer expectations and supply chain disruptions, there are several hurdles to overcome
Time-Consuming Route Planning
Many solutions can only optimize a single route. Companies are left to determine the best way to cluster large numbers of deliveries into routes that their drivers can deliver. It's difficult to consider capacity, driver fairness, and customer delivery requirements.
Bad Address Data
We know you won't always receive clean address and geocode data from your clients. Routeique makes it quick and easy to identify bad data and correct it, so all of your orders are routing and delivery ready.
Complex Delivery Requirements
When all your customers have different delivery windows and requirements, manually planning out routes can be inefficient and time-consuming.
Inefficient Routing
Inefficient routes can result in missed delivery windows, extra wear and tear on your vehicles, and fuel waste.
Decentralized Proof of Delivery
It's easy for paper proof of delivery to get lost and challenging to respect each client's specific POD requirements.
Difficulty Keeping Customers In the Loop
From delivery notifications to updates when things have changed, communication is key to an organization that runs seamlessly.
UNLOCK NEW COMPETITIVE ADVANTAGES
Our software for carriers helps you operate seamlessly and with complete visibility.
EFFORTLESS ROUTE PLANNING
ACCURATE DELIVERIES
MEET DELIVERY REQUIREMENTS
OPTIMIZE ROUTES
COLLECT PROOF OF DELIVERY
SEND NOTIFICATIONS
Save time and money
Our software allows you to turn your long list of deliveries into a route plan and optimize each route.
Get orders to customers quickly and effectively
With accurate addresses and a powerful routing algorithm, you can provide the shortest, most accurate, and most efficient route to each driver.
Effectively manage delivery requirements
Track customer preferences and ensure every order lands in the required customer window.
Speed up routing and delivery
Optimize routes and cut delivery times by 25%.

Digitize and centralize key documents
With the Delivery Management System and mobile app, drivers can collect proof of delivery and automatically sync it to the cloud.

Keep customers in the loop
Notify customers of order changes, delivery, and more.
TESTIMONIALS
WHAT OUR CUSTOMERS ARE SAYING
"As usual, the support was there and they assisted in solving the problem. They listened to me and communicated with me until the problem was solved - very professional."
"Overall very positive and a refreshing new experience with a software company that actually values feedback for continuous improvement."
"Over the past year Routeique has helped Ziing Optimize delivery routes for over 250,000 orders across Canada. The Routeique team consistently deliver effective and timely solutions that have established them as a solutions provider and not just a vendor of software."
"Throughout our experience with Routeique, our business has expanded from a small home-based business distributing one brand, into a corporation with a warehouse that stores and distributes items from multiple suppliers. Although Routeique was unaware of the potential growth of our business, they have treated us with the same excellent customer service and support since our small beginnings at our home office. Throughout our expansion, any challenge that has arose has been met with a software solution from our friends at Routeique."
"Your teams' analysis of our warehouse and fleet processes helped us to uncover several opportunities for further optimizing our warehouse operations."
"I feel like we work with [Routeique] on a day-to-day basis, an I can call any one of them up, and ask basically anything, which is incredible. We feel very comfortable working with their team."
"During our time using Routeique's order management solutions, we have found that it greatly reduces the amount of time required to manage orders and has increased order accuracy."
"Excellent customer service and customized software to my business."
"I'm a big fan of the company, the people and the product. Great usability, fantastic support! Very intuitive usage. The personal support is absolutely stunning."
"Your technology allows us to share customer order details across our third-party distribution network, and view the real-time status of each delivery. Your software has allowed us to reduce our time to settlement and enhance our customer service. During our time working with Routeique, we've been pleased with your team's customer care and software solution. Your team provides a high level of support directly to our distributors and their teams, building relationships directly with the members of our network."
"Before we launched Routeique, our sales team took orders by phone or email. Now, our sales reps all have access to the Order Portal to place and manage existing orders."
SUPPLY CHAIN SOFTWARE AND SOLUTIONS FOR CARRIERS
MAKE YOUR OPERATION MORE STREAMLINED AND RELIABLE
Our top solutions for supply chain success
ORDER MANAGEMENT SYSTEM
CENTRALIZE ORDER MANAGEMENT
Cut down on time spent manually entering customer orders. The self-serve customer order portal and seamless e-commerce integrations reduce admin time and eliminate the errors from extensive manual data entry.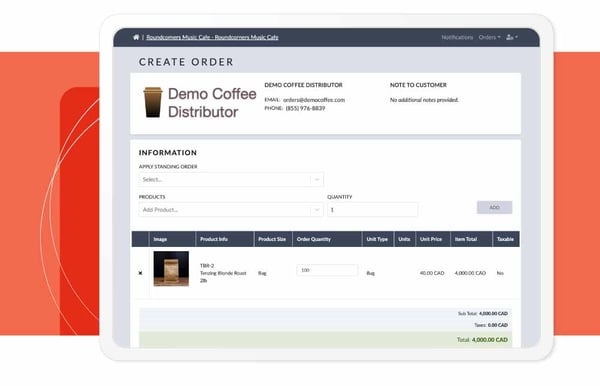 ROUTE OPTIMIZATION
OPTIMIZE ROUTES AND TOUR SEQUENCES
Advanced route planning and optimization have reduced Routeique clients' delivery times and mileage by up to 25%. In turn, efficient deliveries help them reduce customer support calls by up to 30%. Additionally, less mileage means less wear and tear on vehicles. Plus, drivers can easily manage orders, re-optimize routes, and capture proof of delivery on the go with the Delivery Management System (DMS) app.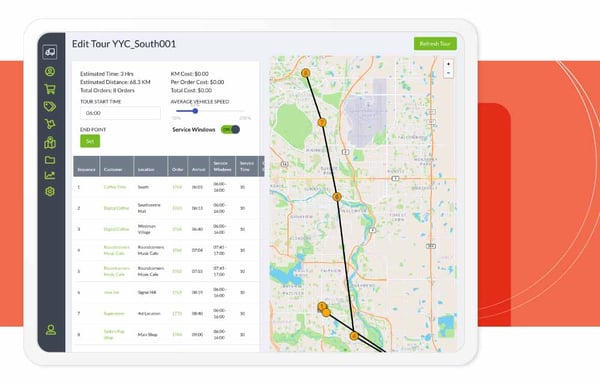 TRANSPORTATION MANAGEMENT
PROVIDE REAL-TIME INSIGHTS INTO DELIVERY STATUS
Notify your customers and team more often with order and delivery statuses. It's easy for your service teams to monitor where your trucks and customer orders are on the road. This ensures that everyone is kept in the loop.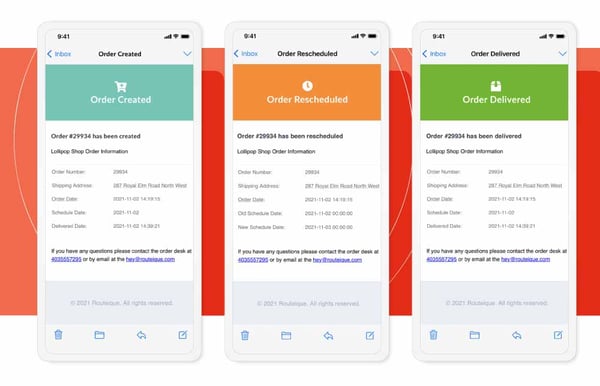 DELIVERY MANAGEMENT
MANAGE CLIENT-SPECIFIC DELIVERY REQUIREMENTS
Our route optimization tools take into account each customer's preferred delivery windows. Additionally, you can add as many notes as you need to a customer profile, enabling you to keep the whole team up to date and provide the best possible customer service.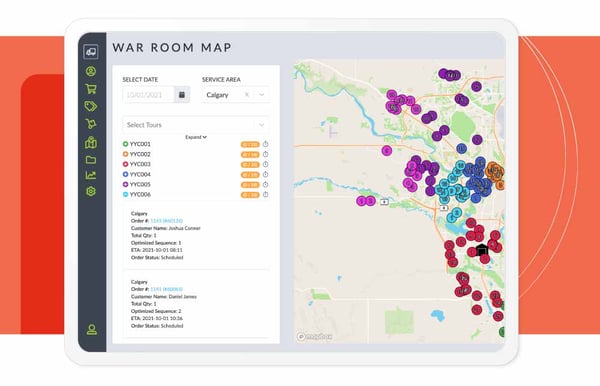 REPORTING SOLUTIONS
PROVIDE CUSTOMIZED REPORTS
Get the metrics that are most important to you and your clients with our new easy and flexible reporting. Customize the reports you need and save them for repeat use.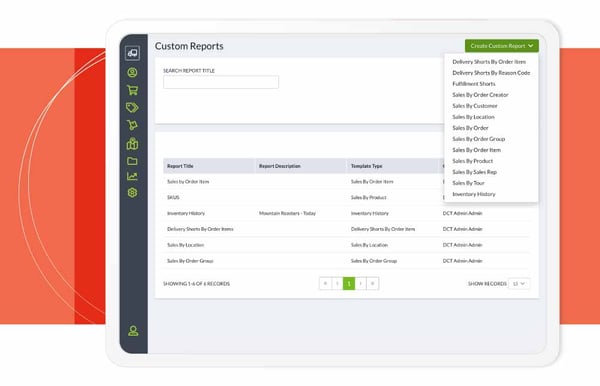 CASE STUDY
ENABLING FASTER FULFILLMENT
Find out how our team enabled a mid-sized carrier to enhance their operation.
SUPPLY CHAIN SOFTWARE FOR CARRIERS
CORE CAPABILITIES
Centralize order management from all clients

Route optimization & tour sequencing

Real-time visibility on delivery status
Configure client-specific delivery requirements

Client-specific KPI reporting
FREQUENTLY ASKED QUESTIONS
How does pricing work?
Our pricing is based on the number of orders/transactions.
Unlike a number of platforms, we don't charge based on the number of users. We believe that clients get the most out of our traceability features by adding all team members to our software. Additionally, by basing our software fees on monthly transaction volume, we can more accurately scale with your business.
We also offer onboarding & implementation packages as well as professional services to support your digital transformation. We offer both standard and custom packages.
Clients can opt to onboard themselves, but we are also proud to offer strategic consultation and process review and analysis for those who want it. This means that clients are able to start digitizing even if they don't have a project or technical team in-house. It's an easy way to scale up and down as your projects require it.
Contact us for more info about our software, hardware and professional services pricing!
What is the timeline for onboarding?
In general, we find that most clients can be onboarded in six to eight weeks from project kickoff. This allows our clients time to gather data, and manage change control.
However, if we are setting up an integration, we adjust the timeline to account for integration setup. If you get in touch with our team, we can give you a more specific estimate based on integrations.
What data do I need to start project kickoff/onboarding?
There are a few things that need to be in place before you launch a new solution. But, if you don't have them in place, our expert team is more than happy to help you get set up for success!
Data
Ensure that you have data, either from a legacy system or manual process, in a format that is readily available for upload to Routeique. Our Client Success team can lead your team through the data requirements and formatting details.
Process Documentation
We find that clients are most successful when they have their operating procedures well documented so they can be updated as new tech gets rolled out.
WiFi
One of the first challenges we see clients encounter when rolling out new technology in a warehouse is WiFi quality. We recommend testing your existing WiFi quality before launch.
Hardware
Our solutions can be used on consumer or enterprise hardware. We are happy to introduce you to trusted hardware partners to find the best-fit supported device for your facility and team.
Additional Consultation (If Applicable)
There's no sense in digitizing a bad process. Our supply chain consultants will provide warehouse layout & optimization solutions. . During this phase, we spot opportunities for optimization and solve problems in analog before implementing a digital solution.
What options do you have for user education?
We have a robust knowledge base available 24/7 as well as a standard training package.
We're also happy to build a custom training plan for you and your team based on your team and end users' specific requirements and use cases.
I want to try your software. Can I get a trial account?
We can absolutely set up a trial account for those interested! Because we have many solutions, please book an intro call with our team, and we can set up a trial account of the best-fit solution for your businesses.
What services do you offer?
We're more than a software company—please visit our professional services page for more details. We love to be involved even before you have a solution implemented.
Does Routeique help prove product integrity?
Yes! In addition to tracking environmental factors that could harm a product's integrity, our tools monitor door contact, effectively providing a digital seal. This can replace traditional plastic seals used in industries such as dairy while providing additional context, such as the time of door opening.
What aspects of my supply chain can I track? Can I customize what I track?
Our combination of software and IoT tools provide you with context-rich information across and into your entire supply chain for unparalleled visibility.
Breadth
Easily track your products' journey from supplier to end customer.
Granularity
Routeique allows you to track items down to the line level. In addition to our software, our standalone and modular Smart Chain Sensor can monitor product environment temperature, humidity, light, and more.
With custom reports and IoT configuration, it's easy to see the data that's most important to you.
Visit our orchestration page for more details.
NEWSLETTER SIGN-UP
GET HANDPICKED TIPS, HOW-TOS, AND INSIGHTS, DELIVERED TO YOUR INBOX
Whether you want to keep pace with industry trends or are looking for concrete how-tos, our dedicated team has you covered.
Every month, we send you the best of our blogs and podcasts, along with curated news and trends, to provide you with valuable information and actionable insights.